Book Week is fast approaching, like a speeding train, an out of control car, a jet screaming across the sky taking us to everywhere.  The theme this year is Escape to Everywhere. Where have you been to from your bed while reading a book. Books transport us to the future, to other planets, to wars, to happy times or just give us comfort when we are down.  This year we have a selection of six books that are on the Children's Book Council Awards.
Waer by Meg Caddy
As night fell, something stirred the darkness. Birds shrieked, rising into the air as the peace cracked and fell apart. Flashes of crimson uniform cut the smothering black of the woods. The smell of smoke lifted through the boughs and choked the leaves. A drum beat out a steady pulse as soldiers tore over the dead leaf matter, hacking their way through the web of forest.
The prisoner ran…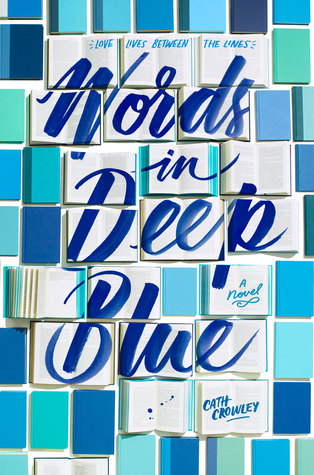 Words in Deep Blue by Cathy Crowley
Love lives between the lines.
Years ago, Rachel had a crush on Henry Jones. The day before she moved away, she tucked a love letter into his favorite book in his family's bookshop. She waited. But Henry never came. 
Now Rachel has returned to the city—and to the bookshop—to work alongside the boy she'd rather not see, if at all possible, for the rest of her life. But Rachel needs the distraction, and the escape. Her brother drowned months ago, and she can't feel anything anymore. She can't see her future.
Henry's future isn't looking too promising, either. His girlfriend dumped him. The bookstore is slipping away. And his family is breaking apart.
As Henry and Rachel work side by side—surrounded by books, watching love stories unfold, exchanging letters between the pages—they find hope in each other. Because life may be uncontrollable, even unbearable sometimes. But it's possible that words, and love, and second chances are enough.
The Bone Sparrow by Zana Fraillon
Subhi is a refugee. Born in an Australian permanent detention center after his mother and sister fled the violence of a distant homeland, Subhi has only ever known life behind the fences. But his world is far bigger than that—every night, the magical Night Sea from his mother's stories brings him gifts, the faraway whales sing to him, and the birds tell their stories. And as he grows, his imagination threatens to burst beyond the limits of his containment.
The most vivid story of all, however, is the one that arrives one night in the form of Jimmie—a scruffy, impatient girl who appears on the other side of the wire fence and brings with her a notebook written by the mother she lost. Unable to read it herself, she relies on Subhi to unravel her family's love songs and tragedies.
Subhi and Jimmie might both find comfort—and maybe even freedom—as their tales unfold. But not until each has been braver than ever before. 
Yellow by Megan Jacobson
If fourteen-year-old Kirra is having a mid-life crisis now, then it doesn't bode well for her life expectancy. Her so-called friends bully her, whatever semblance of a mother she had has been drowned at the bottom of a gin bottle ever since her dad left them for another woman, and now a teenage ghost is speaking to her through a broken phone booth. Kirra and the ghost make a pact. She'll prove who murdered him almost twenty years ago if he does three things for her. He makes her popular, he gets her parents back together, and he doesn't haunt her. Things aren't so simple however, and Kirra realises that people can be haunted in more ways than one. 
Frankie by Shivaun Plozza
Frankie Vega is angry. Just ask the guy whose nose she broke. Or the cop investigating the burglary she witnessed, or her cheating ex-boyfriend or her aunt who's tired of giving second chances…When a kid shows up claiming to be Frankie's half brother, it opens the door to a past she doesn't want to remember. And when that kid goes missing, the only person willing to help is a boy with stupidly blue eyes … and secrets of his own. Frankie's search for the truth might change her life, or cost her everything. 
One Would Think the Deep by Claire Zorn
It's 1997 and seventeen-year-old Sam is mourning the sudden loss of his mum …
Sam has always had things going on in his head that no one else understands, even his mum. And now she's dead, it's worse than ever.
With nothing but his skateboard and a few belongings in a garbage bag, Sam goes to live with the strangers his mum cut ties with seven years ago: Aunty Lorraine and his cousins Shane and Minty.
Despite the suspicion and hostility emanating from their fibro shack, Sam reverts to his childhood habit of following Minty around and is soon surfing with Minty to cut through the static fuzz in his head. But as the days slowly meld into one another, and ghosts from the past reappear, Sam has to make the ultimate decision … will he sink or will he swim.